Last night, I let my children stay up a bit later, its the holidays and they had all been good, so we all watched 'Room on the Broom' as a treat, then just as it finished the girls went outside in the garden, it was just before 9pm, I was saying its bedtime and went to get them in.
I heard excited voices, the girls were telling me they could see a falling star, so I went to look and bless them, it was of course a aeroplane high in the sky, with its flashing lights, so I explained to the girls what it was, but asked them if they could see any stars, 'Yes' they replied excitedly.
Izzy was a little sad as she wanted to wish upon a star, so I sang the song above, as I remember it and explained she would be able to wish on the first star she saw that evening, the girls were so excited, I decided there and then to take them to the cricket pitch down the road, where on a clear night you can see millions of stars so clearly.
Edward was also keen to come along, so even though the girls had already got their pyjamas on, it was just a case of put shoes or wellies on with coats as was a little nippy in the air and off we all set, with me telling the children they had to be very quiet as lots of other boys and girls would be in bed fast asleep.
Anna started telling me she was wishing for a star to fall in our garden, Izzy was wishing for a new dolly set, Edward was just saying twinkle twinkle little star over and over bless him.
All three children are not used to being out walking in the pitch dark, so we all held hands on the way down to the cricket pitch.
On the walk back I asked them to stay close, as hedgehogs might be about near the bushes and Anna pipes up, so could dinosaurs and dragons, her sister Izzy straight away pointed out dinosaurs are dead extinct because they had a man go into school and talk about dinosaurs so she knows she told us, as to dragons....well I said they don't really live in this country, how can I encourage the wonder of magic if I said dragons didn't exist and there is such a thing as dragons, just bearded type lizards as far as I know.
Its times like this, that I love the innocence and simple joy children find in things, its times like these that I worry about the books I read to the children and the programs they watch on the TV, but is it wrong to encourage about magical wishing stars, is it wrong to teach them rhymes about wishing for things.
I personally love that my children still believe in fairies, in magic and are in awe of the things around them.
We love books that are all happy and sometimes have different endings than predicted, the night before we read the book 'The Wish Cat' by Ragnhild Scamell and Gaby Hansen and its one of our favourites.
So the next time you look up into the dark skies and see a star, don't forget to make a wish.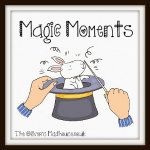 This post is being Linked to the lovely
Magic Moments
first time for me, but above is our Magic Moment, wishing on a stars.